Rob Tofield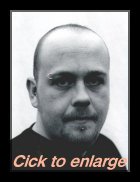 PERSONAL DETAILS

Tel:

07989 602 880

E-mail: rob.t@mailcity.com Web: http://gigglingpie.tripod.com

Nationality

: British Age: 30 Playing Age: Mid Twenties to Early Thirties.

HEIGHT: 5' 6 Waist: 36 Shoes: 7

Build: Heavy Eyes: Blue Hair: Light Brown (Shaved)
---
PROFESSIONAL WORK TO DATE
April 2001 to date. Various Historical Characters. London Dungeons. Dir: Alan Howell.
Website
---
June 2001

to date. 'Mr Kydd'. Pandora and the treasure Hunt. Pandora's Box Theatre Co. Dir: Ian Saunders & Katy Seacombe. Website

EDUCATION AND QUALIFICATIONS

1997- 2000 DeMontfort University, Leicester

BA (Hons) Theatre. 2(1). Modules included: Writing for performance, Performing Shakespeare, Studio

Techniques, Improvisation, Directing, and Various Negotiated Studies.
Dissertation: "The Changing Face of British Theatre".
---
PERFORMANCE WORK DURING UNIVERSITY

Jan-Feb 2000 Co Writer, director and Performer in "Cheese & Scrumpy". Two man Stand-up and Sketch show with Multi-media. Performed as part of the Leicester Comedy Festival 2000.

Dec 1999 Co Writer, Director and Performer in "Charlie in Lights". One act play performed at The Raked Theatre, Leicester.

Dec 1999 Composed & created soundtrack for "Images in Sound". A piece inspired by Shakespeare's Macbeth. Dir::Georgina Simmonds.

June 1999 Deviser, director and Performer in "Make like you Believe". Directed by James Yarker from Stan's Cafe. Also created part of soundtrack to the piece, which was performed at the Phoenix Arts Centre, Leicester.

May 1999 "Feste" in Shakespeare's "Twelfth Night". DeMontfort Theatre Company. Dir: Matthew Clift. PHOTO. REVIEW

April 1999

Cameraman for "Pause", a double bill of Harold Pinter's "The Lover" and "A Slight Ache". Multi-media production. Dir: Matthew Clift.

March 1999 "Raymond" in Stage adaptation of "The Bird cage". DeMontfort Theatre Company. Dir: Stewart Denholm. Photo

Jan 1999

"The Judge" in British Premiere of "Humankind" by Walter Hasenclever at the 'Y' theatre, Leicester. Also lighting designer during the project. Dir: Prof. Michael Patterson Photo.

Dec 1998

Co Writer, director and Performer in "Life's a mess". Physical devised performance for Writing for theatre module at DeMontfort University. Tutor:
---
Radio
Oct 2000 - Mar 2001. Co- writer & Presenter of 'Plink, Plink Fizz' lunchtime comedy show on Demon FM. DeMontfort University Radio Station.
Other Skill & Experience
Regular Stand-up comedy gigs inc: Jongleurs, The Glee Club, Leicester Comedy Festival and smaller London Venues.
Drummer for various Rock bands 1989 - 1996.
Clean Driving Licence.
Websites:
http://gigglingpie.tripod.com or http://plinkplinkfizz.tripod.com