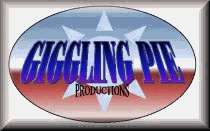 MORE LINKS AT BOTTOM OF PAGE
What's been going on?
Xmas and the New Year have been a busy time for Giggling Pie.
December '99 saw the staging of 'Charlie in Lights' at The Raked Theatre, Scraptoft.
The show was written and performed by Colin, Rob and Luke Cilliers and both nights went successfully.
The play looks at the lives of three clowns: Charlie, the eldest and the owner of the show, Lenny, his frock- wearing sidekick and Tom, the hapless young apprentice.
Charlie in Lights is a mixture of comic moments, slapstick and pratfalls, combined with some very touching moments, as we examine the relationships between the three clowns.

January 2000 saw the first performance of Cheese & Scrumpy, a two-man comedy show, at The Fan Club, Leicester. This was a warm-up show to the full-length version that took place at The Nag's Head & Star, Leicester, as part of The Leicester Comedy Festival.
The performance itself was a great success, after a day of technical nightmares and 'the morning from hell'! Thanks to Coventry Police who mistook Rob & Colin for armed robbers (!) and impounded all the show's equipment!! This, of course meant that the show had to be introduced with the cliché comedy intro of "A funny thing happened on the way to the Theatre…".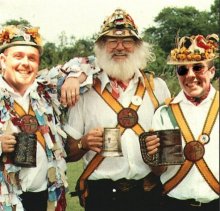 CHEESE & SCRUMPY PAGE

February contained three highlights; our first Jongleurs gig, a fantastic first TV appearance and the full Cheese & Scrumpy Show.
The Jongleurs night was part of the Comedy Festival's 'Sketchpad' evening and the four sketches performed all went down well.
TV stardom beckoned (!) with an interview on the Live Lunch programme on Leicester's 'Cable 7' channel. It was an interesting experience with the autoque breaking down and nobody quite knowing which camera to look at! TV at its best!

Cheese & Scrumpy went really well, apart from Rob suffering from a mystery virus! The venue was packed and the sketches, stand-up and video work were all really well received. There are some quotes about the show on the 'Reviews' page.

| | |
| --- | --- |
| | Go back & search the site |
What's Next?
Summer 2000 will be (hopefully!) a busy time for us.
We're planning to put together a small tour of Charlie in Lights, with a new cast member playing the part of Tom.
Also we're organising more dates for 'Cheese & Scrumpy' and a 'Fresher's week' tour.
As some of the Cheese & Scrumpy material deals with student life, we feel it would be ideal to take around various Universities, during their Fresher's weeks.
If you know of any suitable venues or want to be updated on the shows, send us your email address and we'll get in touch.
This page is updated regularly, so check back soon.
Love,
Rob & Colin
Xxx