CHEESE & SCRUMPY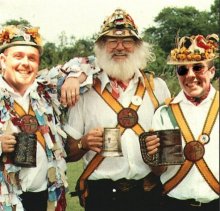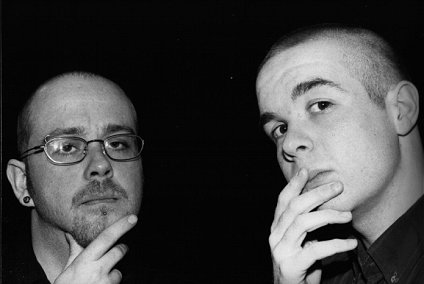 Giggling Pie Presents....


Rob & Colin in Cheese & Scrumpy.
This page gives you info on 'Cheese & Scrumpy'. So far this two man comedy show has been performed at Nag's Head & Star Leics, as part of Leicester Comedy Festival, The Fan Club in Leicester, Molly O'Grady's and highlights of the show at Jongleurs.

For pictures from the show or to order your copy of the Cheese & Scrumpy promo video please follow the links.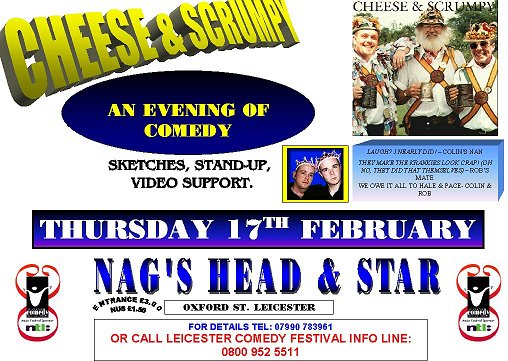 PRESS RELEASE
From the heart of Leicester come two of the brightest & freshest performers to join the comedy scene.

Taking a break from the stresses & strains of University life, Rob Tofield & Colin Leggo invite you into their own little world, to indulge yourself in laughter, thought, tears & happiness.
'Cheese & Scrumpy' takes a look at the stranger side to the world we live in, through visual comedy, stand-up and video footage, brought to you with a unique side order of Tofield & Leggo's strange and slightly disturbing minds.

Containing a mixture of live performance, filmed sketches, slapstick and the slightly bizarre, this show promises to cater for even the most discerning comedy appetite.

Don't miss this one night only opportunity to escape realism and the humdrum of life and enjoy an evening of laughs, jokes, cheese and scrumpy!

GIGGLING PIE HOPE TO BE TAKING CHEESE & SCRUMPY ON THE ROAD FOR A UNIVERSITY TOUR IN SEPTEMBER 2000. FOR MORE INFORMATION PLEASE CONTACT US.
OR CALL
Giggling Pie Productions
(UK) 07989 602880
(UK) 07714 822344